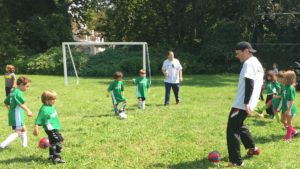 GET YOUR FRIENDS INVOLVED! HAVE LOADS OF FUN! MEET NEW PEOPLE!
It's not too late to register.
Please click the link below to register.
Some helpful tips:
If your child has played in our league, click on "Returning player."
If you are registering more than one child, register all children first, then proceed to checkout and submit one payment for all children. This is the only way to get the discount for registering multiple children.
Note to those who volunteer as a Coach or Assistant Coach: Once the registration is submitted, there is one extra step that is mandatory. On the page, "Thank You! Registration is Complete," there is a link to click on for the 2017-2018 EPYSA Risk Management Application. Please complete this step at time of registration to enable EPYSA (Eastern Pennsylvania Youth Soccer Association) to do a background check on those looking to be a Coach or Assistant Coach. There is no additional fee to complete this application. This is only for the protection of the children in our League. Thank you very much for volunteering and being part of our community Soccer League!
We look forward to seeing you at the fields in fall 2017!
Click here to register, or paste the following into your browser:
https://www.youthleaguesusa.com/epys/17-18/0646/010/Welcome.html